"This is the largest unexplored, potentially productive geologic onshore basin in the United States."
– U.S. Energy Information Administration (EIA), 2000
What is ANWR?
The Arctic National Wildlife Refuge (ANWR) comprises an area of about 19 million acres in Alaska's North Slope region. 1.5 million acres of ANWR was set aside in 1980 by Congress and President Jimmy Carter in order to study its potential for energy resource production.
ANWR's 1002 Area
The 1.5 million acre area set aside was named the "1002 Area," and is located on Alaska's North Slope. Stretching for hundreds of miles, the North Slope drops from mountain ridges and foothills to a coastal plain that is frozen most months of the year. Oil and gas production in the 1002 Area would be limited to only 2,000 acres; 0.01% of ANWR's total area.
The 1002 Area is not designated as wilderness; there are no trees, deepwater lakes, or mountain peaks
Winter temperatures are often as low as -30 degrees Fahrenheit
It is without sunlight for 56 days of the year
ANWR's 1002 Area Represents America's Greatest Prospect for Future Oil
U.S. Geological Survey (USGS) estimates that the entire assessment area contains a mean expected value of 10.4 billion barrels of technically recoverable oil.
The 1002 area could produce about one million barrels of oil per day, which is about 20% of our daily domestic production
10.4 billion barrels, with a production rate of 1 million barrels per day, would make ANWR the single largest producing field in North America.
In fact, the oil production potential of ANWR is about equal to the production of 41 states combined.
How Long Would Your State Run With ANWR Oil?
1 – 99 years
100 – 199 years
200 – 299 years
300 – 399 years
400+ years

Provisions of Recent Legislation Passed by the U.S. House of Representatives
Both former Secretary of the Interior Gale Norton and many in Congress have called for legislation with the strongest environmental protections ever required for oil and gas leasing. Among the provisions of the legislation:
Application of the best commercial technology available
A strict 2,000 acre limit – the maximum surface allowed to be occupied by production and support facilities on the Coastal Plain
Activities will create no adverse effect – on the environment, including fish and wildlife, their habitat, and subsistence sources
Where necessary to avoid significant and adverse effects, seasonal limits on oil and gas activities are imposed.
Responsible Energy Production
In the ANWR Coastal Plain it is not uncommon for temperatures to reach 30 degrees below zero, yet the winter is the best time to uncover resource potential. The Coastal Plain is frozen and covered with snow, and minimizes potential impacts to tundra vegetation, soils, and potential conflicts with wildlife. In this way, the harsh climate is the environment's best ally.
The bitter cold conditions allow for a natural solution for exploratory drilling bases: ice pads. The use of seasonal ice pads, a foot or more thick, instead of traditional gravel pads reduces the environmental impact of transporting gravel.
Transportation to the ice pads is by ice road. These roads melt in the spring, reducing impacts to the environment.
An early Prudhoe Bay field pad containing 20 wells encompassed 65 acres, compared with production pads of today that contain 20 or more wells within 6-10 acres.
The best example of the many new technologies at work can be found in the Alpine field, just west of Prudhoe Bay and ANWR. The total surface disturbance is less than 100 acres, and the use of directional extended-reach drilling permits up to one hundred wells to be drilled from its two pads.
Environmental Protection and the Caribou Herd
A primary concern of oil and gas development within the 1002 Area focuses on the disturbance to caribou herds that migrate to Alaska each year. Research of caribou migrations through nearby Prudhoe Bay suggests oil development has little impact on the caribou population.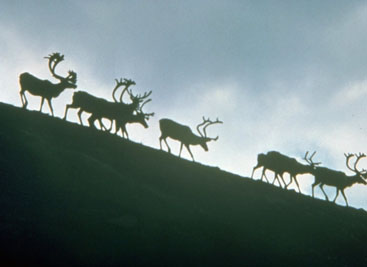 The USGS and the US Fish and Wildlife Service have developed an empirical model that found that using the most likely ANWR development scenarios based on USGS' most recent assessment, there is a 95% degree of certainty that there is a nearly negligible impact on calf survival.
The Central Arctic Caribou Herd habitat includes the Prudhoe Bay oilfields. This herd's numbers have increased from 5,000 in 1977, when oil production began, to 31,000 in 2002 to approximately 67,000 in 2009 based on the Alaska Fish and Game's most recent census.
In 2003, Central Arctic Caribou Herd's population of 31,000 was highest population level ever recorded and the population has more than doubled since then.
Our Energy Use
58% of oil consumed in 2007 by the United States came from foreign nations.
Employment and the Economy
While estimates vary, a large number of jobs will directly and indirectly result from exploration, development, and production in the 1002 area. One analysis finds that ANWR production would create 736,000 new jobs in the U.S.
The Congressional Budget Office estimates that energy companies would pay the government at least $5 billion for leases in the 1002 Area. Billions more would come from royalty payments while oil is being produced.
In 1995, Congress sent to President Bill Clinton budget reconciliation legislation that would have allowed energy production in the 1002 Area. The legislation was vetoed. If the legislation had been signed, ANWR would be producing 1 million barrels of oil per day today.
Sources
Environmentally Responsible Energy Production in Alaska's Arctic National Wildlife Refuge (ANWR), Department of the Interior, http://www.doi.gov/anwr/, July 21, 2003.
U.S. map template courtesy of www.backspace.com