While headlines have reported a boom in US oil and gas production, that boom has been related exclusively to exploration and development on private and state lands and waters. Even that limited expansion has had profound effects. Opening up Federal resources — in addition to private and state resources — to exploration and development can accelerate all of those trends. But recent administrations have yet to follow through on promises to allow access to Federal resources, instead proposing to levy increased taxes on oil and gas production.The Congressional Budget Office (CBO), at the request of the House Budget Committee, recently released an analysis of lease revenues that could be expected to arise from a proposal to open Federal lands and waters to oil and gas leasing (the "CBO Assessment"). Specifically, the proposal aims to open areas that are statutorily or as a matter of administration policy prohibited from leasing. The issue has repeatedly been a hot-button political and economic issue in the last several years, most recently at the beginning of the Obama administration and then again as Republican challengers in the 2012 election placed opening the lands and waters at the center of their energy policy.
But while the Administration cannot shy away from exploring the fiscal benefits of opening Federal lands, the CBO study was restricted to analyzing just one component of those benefits: lease revenues. This paper highlights the larger economic effects, including economic growth, wages, jobs, and both federal and state and local tax revenues, of opening Federal lands and waters to oil and gas leasing, relying solely upon the CBO natural resource and oil and gas price estimates to show these broader economic effects in order to maintain direct comparability with their analysis. This paper also seeks to "complete" the CBO Assessment by taking measurements of output, jobs, wages and tax revenues into consideration.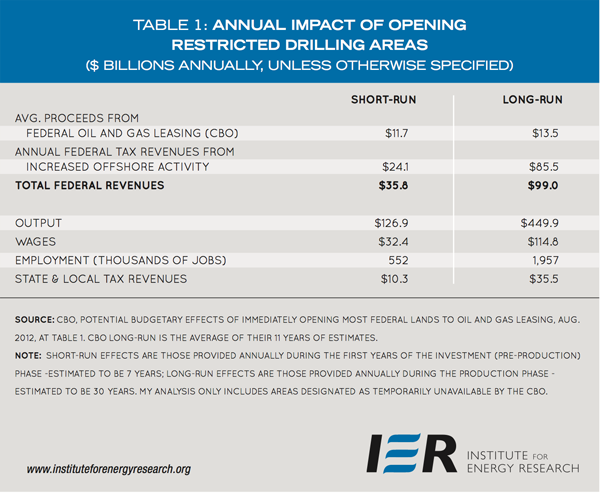 The findings of this paper demonstrate that opening federal land that is currently closed-off because of statutory or administrative action would lead to broad- based economic stimulus, including increasing GDP, employment, and wages. Specifically:
GDP increase:

• $127 billion annually for the next seven years.

• $450 billion annually in the next thirty years.

• $14.4 trillion cumulative increase in economic activity over the next thirty-seven years.

Jobs increase:

• 552,000 jobs annually over the next seven years.

• Almost 2 million jobs annually over the next thirty years.

Wage increase:

• $32 billion increase in annual wages over the next seven years.

• $115 billion annually between seven and thirty years.

• $3.7 trillion cumulative increase over thirty-seven years.

Increase in tax revenue:

• $2.7 trillion increase in federal tax revenues over thirty-seven years.

• $1.1 trillion in state and local tax revenues over thirty-seven years.

• $24 billion annual federal tax revenue over the next seven years, $86 billion annually thereafter.

• $10.3 billion annual state and local tax revenue over the next seven years, $35.5 billion annually thereafter.
This paper illustrates that Congress has chosen to evaluate only one small piece of the economic effect of opening federal tracts to oil and gas leasing. By ignoring the investment phase, the CBO — upon the instruction of Congress — substantially underestimates the economic effects of current policy choices. Moreover, by focusing on lease revenue and ignoring the potential for increased tax revenue, Congress has doubly downplayed the fiscal effects of such a policy. By failing yet again to analyze jobs, wages, and output, Congress ignores the crucial economic reality that freeing resources can help our economy grow beyond the recent recession and its continuing drag upon economic growth.
As Congress again turns its attention to the means through which our ongoing budget crises – from the debt limit to budget sequesters to the simple act of funding our government beyond the current continuing resolution – there will no doubt be renewed efforts to address revenue concerns by punitively taxing the oil and gas industry in pursuit of modest revenue gains. As this analysis notes, though, the revenue potential inherent to expanding access to resources found on Federal lands and waters is orders of magnitude greater than that which is measured by the CBO.
   Executive Summary (Download PDF here)
   Charts and Graphs (Download) 

   Full Study (Download)
Support for the Mason Study
U.S. Senator David Vitter (LA)
Ranking Member, Senate Committee on Environment and Public Works
There's no disputing the fact that our nation's domestic energy production on federal lands has been stymied by this administration, and is trending in the exact opposite direction of the rapid growth we're seeing on private and state lands. I appreciate LSU's economist Joe Mason – one who particularly understands our energy economy – for his diligent work providing facts instead of the rhetoric we often hear from the administration about domestic energy resources, production and economic potential. That rhetoric doesn't change the fact that the administration continues to limit access to federal land and suffocate our domestic energy producers with red tape. Joe Mason's study gives a good outline of just how much federal revenue and jobs could be created with a common-sense energy policy – one that allows access to federal resources.
U.S. Senator John Barrasso (WY)
Chairman, Senate Republican Policy Committee
"For the past four years, this Administration has used almost every excuse in the book to block responsible energy production on federal public lands. As this report confirms, increasing energy production on federal public lands is a win-win for our economy and American taxpayers.  It's a much more effective way to generate revenue than raising taxes on Americans families and businesses. It's time for the Administration to finally acknowledge that we can responsibly open access to our public lands, create jobs, and strengthen our nation's energy security."
U.S. Congressman Doc Hastings (WA)
Chairman, House Committee on Natural Resources
The report continues to confirm what House Republicans know and what President Obama has ignored for four years: increased American energy production creates jobs and grows the economy.  There is simply no reason why so many Americans are still looking for work and the United States remains so dependent on unstable foreign countries for energy while America's public lands contain such potential," said Chairman Hastings.
U.S. Congressman Darrell Issa (CA)
Chairman, House Committee on Oversight and Government Reform
"I welcome the analysis done by the Institute for Energy Research as it explains the potential of American energy sources to grow our economy. The report, "Beyond the Congressional Budget Office: The Additional Economic Effects of Immediately Opening Federal Lands to Oil and Gas Leasing," offers an effective analysis of how opening up federal lands for energy development will ensure that Americans receive the full benefit of these resources through increases in jobs, wages, and tax revenue.

"Instead of wasting the money of hardworking taxpayers on technologies that have yet to prove themselves, Congress must consider a different path for our economy. This new report adds to arguments for achieving economic goals through a smarter energy policy."
U.S. Senator Mike Crapo (ID)
Ranking Member, Senate Subcommittee on Water and Wildlife
"One of Congress' main priorities should be addressing our nation's massive debt problem, and this study shows commonsense policies that could contribute significantly to deficit reduction.

"A successful national energy policy should be shaped like a financial portfolio made up of many different energy sources. This study demonstrates that expanding our domestic energy sources could immediately create millions of jobs and generate billions in revenue to reduce our federal debt, while also furthering our energy independence. Utilizing our diverse resources is central to energy affordability, economic recovery and national security. If the administration is truly committed to identifying and overturning burdensome, unnecessary regulations that stymie economic growth, this study shows a good place to begin."
U.S. Congressman Steve Scalise (LA)
Chairman, House Republican Study Committee
 Rather than supporting domestic energy production and reducing our dependence on Middle Eastern oil, the Obama Administration continues to pursue the same restrictive policies that have made America less energy secure, increased our dependence on Middle Eastern oil, and the President's policies have also led to higher gas prices at the pump. America cannot continue to rely on Middle Eastern countries that don't like us for our oil, and it's time for President Obama and his administration to work with us to create millions of American jobs, decrease our dependence on foreign oil, and lower prices at the pump.
U.S. Congressmen Steve Pearce (NM) and Cynthia Lummis (WY)
Western Caucus Urges House to Consider Energy Development as Source of New Revenues
Western Caucus Co-Chairmen Steve Pearce (NM-02) and Cynthia Lummis (WY), along with Chairman Emeritus Rob Bishop (UT-01), today urged the House of Representatives to consider energy development on federal lands as a way to increase revenues without having to increase taxes on the middle-class.

Just 5.4% of western federal lands are leased for oil and gas development.  This number is not expected to increase anytime soon, as the 2012 numbers show yet another decrease in leasing under the Obama Administration.  Decreases in leasing leads to decreases in production, this is evidenced by the fact that oil production on federal lands fell by an average of 275,000 barrels per day in 2011.
U.S. Congressman Rob Bishop (UT)
Chairman, House Natural Resources Public Lands Subcommittee
As the report illustrates, there are beneficial and responsible ways to grow revenues and jobs in this country without taxing hard-working Americans.  Some view tax increases as the panacea to our nation's budgetary problems. I disagree with this notion and this study proves that there are alternative solutions. I noted in a recent letter to Speaker of the House John Boehner that increased energy production on our nation's public lands is a healthy way to bolster revenues, create jobs, and provide greater energy security. The report released today by IER confirms that utilization of the abundant resources on our public lands would be a boon for our country," said Bishop.

I appreciate the work IER and Dr. Mason did to clearly illustrate the overwhelming benefits of responsible energy production on public lands. It is increasingly frustrating to know that our country could be far better off if the President would stop placating his special interest group allies and put the interests of this country first.
U.S. Congressman Doug Lamborn (CO)
Chairman, House Subcommittee on Energy and Mineral Resources
"I intend to continue to push an aggressive legislative agenda in this Congress to open up America's vast energy resources on our federal lands. This report should be required reading at the Obama White House. According to the study, if the Obama administration were to simply open up federal lands currently closed to energy production, it would jump start the economy.

"This economy could use the boost. Millions of American families are barely making it each month as they struggle with high taxes, high gasoline prices, and high unemployment. We can do better, and boosting domestic energy is a great place to get started."
U.S. Congressman Mike Pompeo (KS)
Member, House Committee on Energy and Commerce
"While the president insists we need to waste billions of taxpayer dollars propping up risky and unreliable energy sources, we already have vast resources available to us. Our GDP just shrank, yet, according to IER's study we could easily replenish it by committing to expand exploration on federal lands. Unemployment ticked up, yet we have the opportunity to create hundreds of thousands of new jobs. The White House must stop neglecting the needs of Americans and allow our economy to grow."