What is the Outer Continental Shelf (OCS)?
The Outer Continental Shelf (OCS) is the submerged area between a continent and the deep ocean. America's OCS encompasses 1.76 billion acres of submerged, taxpayer-owned lands.
In 1953, Congress designated the Secretary of the Interior to administer mineral exploration and development of the entire OCS through the Outer Continental Shelf Lands Act (OCSLA). The OCSLA was amended in 1978 directing the secretary to develop oil and gas in a timely manner to help meet the energy needs of the nation.
How Much Energy Does the OCS Contain?
The Minerals Management Service (MMS) estimates that the outer continental shelf contains 86 billion barrels of oil and 420 trillion cubic feet of natural gas. These estimates are likely to be very conservative, as bans on offshore leasing have made it illegal to explore.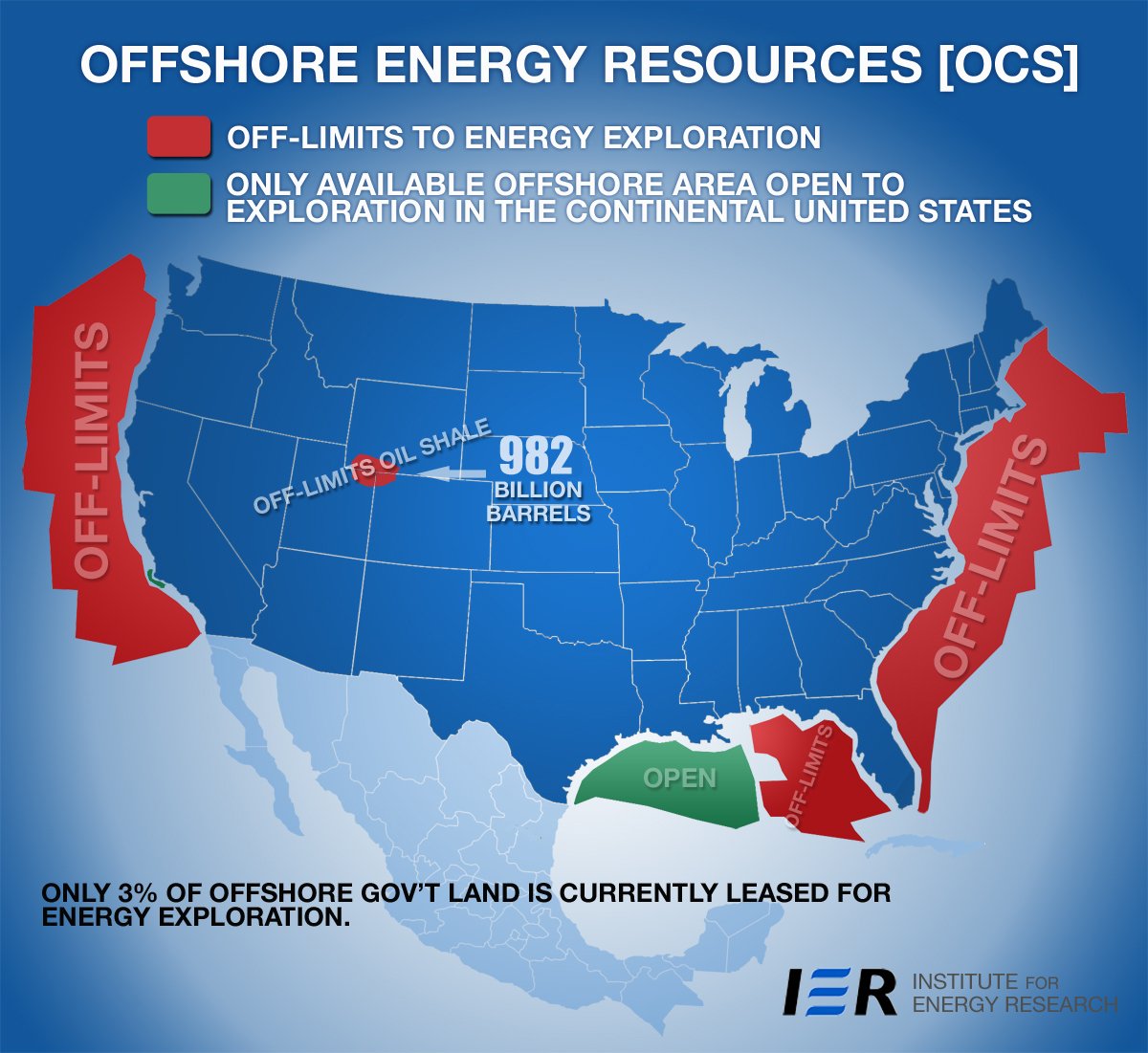 Offshore Energy Bans
American oil and gas leasing has been prohibited on most of the OCS since the 1982. Today, 97 percent of America's offshore OCS lands are not leased for energy exploration or production. The U.S. is now the only developed nation in the World that restricts access to its offshore energy resources.
There were two federal bans that kept the U.S. from producing its vast offshore energy resources: an executive ban and a legislative ban. On July 14, 2008 President George W. Bush lifted the executive ban on offshore drilling, and the Congressional ban was allowed to expire on September 30, 2008, the end of the federal FY2008 fiscal year. Prior to this year, the Congressional Moratorium had been renewed every year since 1981. The Executive Moratorium was instituted by the President in 1990.
Ending the moratorium will allow energy exploration and production to move forward, but there are many activities that need to occur for actual production to take place.
Cleaner, Safer Oil Production Technology
The memory of offshore oil spills, like the 1969 blowout on Union Oil's Platform A offshore from Santa Barbara, may deter some individuals from supporting offshore drilling. Opponents of domestic energy production on the OCS prey on the public's fears that such an event will occur again, even though advances in exploration and production technology have greatly diminished the risks. The pursuit of safety has led to innovative technologies and modern methods that are more efficient and environmentally sound. For example:
Advanced 3-D seismic and 4-D time imaging technologies enable offshore operators to locate oil and gas resources far more accurately, resulting in less drilling and greater resource recovery. [2]
All offshore wells have storm chokes that detect damage to surface valves and shut off the well in emergencies to prevent spills. [2]
Blowout preventers – devices that would have prevented the Santa Barbara accident had they existed in 1969 – are installed beneath the seafloor. Sensors continuously monitor the subsurface and subsea-bed conditions to prevent spills in the event of unexpected changes in well pressure. [2]
Drill cuttings, a waste product of rock pieces and drilling fluids produced when drilling a well, are now finding new uses as raw material for bricks, roads, and even rebuilding Louisiana's wetlands. [2]
The Environmental Benefits of Advanced Technology
According to the U.S. Department of Interior, offshore operators produced 7 billion barrels of oil from 1985 to 2001 with a spill rate of only .001% [4]
In 2005, Hurricanes Katrina and Rita destroyed 115 Gulf of Mexico oil and gas platforms and damaged 535 pipeline segments, but there were no major oil spills attributed to either storm. [4]
Today, nearly all Outer Continental Shelf operators are collaborating with the Minerals Management Service and other federal agencies to implement Safety and Environmental Management Programs (SEMP); voluntary, nonregulatory strategies designed to identify and reduce risks and occurrences of offshore accidents, injuries, and spills [2]
Less than 1 percent of all oil found in the marine environment comes from offshore oil and gas development. According to the National Academy of Sciences, the majority – 62 percent – is the result of natural seeps through the ocean floor.
Natural Oil Seeps
Oil seeps are underwater cracks in the Earth's crust that release naked crude oil into the sea. As the graph below illustrates, offshore production accounts for the smallest fraction of petroleum that is leaked into North American waters.
Source: National Academy of Sciences
Natural seepage of crude oil from geologic formations below the seafloor is estimated to exceed 47,000,000 gallons in North American waters and 180,000,000 gallons globally every year. [3]
Natural oil seeps are responsible for over 60 percentof the petroleum entering North American waters, and over 45 percent of the petroleum entering the marine environment worldwide. [3]
Petroleum contamination from oil seeps in North American waters is about 60 times greater than the amount released through oil exploration and production.
Coal Oil Point
The marine seepfield offshore from Coal Oil Point, Santa Barbara, California is one of the largest natural oil seeps in the world. In fact, all of the tar found on Santa Barbara's beaches and 55% of the tar on Los Angeles County's beaches is derived from the Coal Oil Point seeps. [5]
With roughly 1 billion barrels of oil in place in the Monterey Formation offshore from Coal Oil Point, it will take an estimated 18,000 years to drain naturally at the current oil seepage rate. [5]
According to former Jet Propulsion Laboratory (JPL) physicist Bruce Allen, the tectonically active zone is estimated to have leaked some 800 million barrels of oil over the last 10,000 years. [6]
There is potential to drill the equivalent of 1.85 billion barrels of oil from the Santa Barbara Channel from already discovered, but undeveloped fields. The production of these fields would bring tax revenues of at least $1.05 billion per year to the State of California and $210 million per year to Santa Barbara County. [9]
The reactive organic gases (ROG) emission rates from the Coal Oil Point natural seeps was about twice the emission rate for all the on-road vehicle traffic in the county in 1990. [5]
In spite of vigilant regulation of industrial sources of ROGs and large reductions in automobile emissions over the past decade, Santa Barbara County has had difficulty reaching Environmental Protection Agency (EPA) air quality standards because of the gasses emitted through natural seeps. [5]
Sources:
[1] Offshore Energy & Minerals Management (OEMM), The Minerals Management Service, http://www.mms.gov/offshore/, July 7, 2008.
[2] Environmental Benefits of Advanced Oil and Gas Exploration and Production Technology, U.S. Department of Energy, Office of Fossil Energy, October 1999, p 21, 41, 54, 55, 61, Fact Sheet 30, 36.http://www.fossil.energy.gov/programs/oilgas/publications/environ_benefits/env_benefits.pdf
[3] Oil in the Sea III: Inputs, Fates, and Effects, The National Research Council, The National Academies Press, 2003, p 2, 17, 33. http://www.nap.edu/openbook.php?record_id=10388&page=R1
[4] SAFE Commends Movement Toward Lifting Ban on Offshore Oil and Natural Gas Production,Reuters, http://www.reuters.com/article/pressRelease/idUS223711+18-Jun-2008+PRN20080618, June 18, 2008.
[5]The World's Most Spectacular Marine Hydrocarbon Seeps (Coal Oil Point, Santa Barbara Channel, California): Quantification of Emissions, Journal of Geophysical Research, vol. 104, 1999, p 703, 708, 709. http://www.agu.org/pubs/crossref/1999/1999JC900148.shtml
[6] Offshore Nuances: Santa Barbara's Problematic Oil Seeps, EV World, http://www.evworld.com/article.cfm?storyid=1483,June 30, 2008.
[7] Sustainable Development of North America's Oil and Natural Gas: Ensuring Plentiful Energy and a Clean Environment, Department of Energy, http://www.fossil.energy.gov/programs/oilgas/publications/sustainable_development/sustainabledev.pdf, July 3, 2008.
[8] Dauterive, Les, Rigs-to-Reefs Policy, Progress, and Perspective, U.S. Department of the Interior, http://www.gomr.mms.gov/PDFs/2000/2000-073.pdf, October 2000.
[9] SOS California, Benefits: Create New Revenue for State and Santa Barbara County, http://www.soscalifornia.org/presentation-bbsw/ze.html, July 28, 2008.