Fracking Will Enable North Dakota to Overtake California as a Major Oil Producer
Even in these difficult economic times, North Dakota has low unemployment and above average GDP per capita. One of the biggest reasons for this is the oil boom occurring in the state. In 2006, North Dakota ranked ninth among the states in oil production, but by 2010 it had shot up to fourth. [i] By the second half of next year it might pass California and become the third largest oil producer. [ii] With the economy sputtering, we should look to North Dakota's example to understand why they have weathered these economic storms so well.
North Dakota's Oil Production
North Dakota is rich in shale oil, which is produced by combining a well stimulation method known as hydraulic fracturing or "fracking" with horizontal drilling. This process pumps water, sand, and small amounts of chemicals into the rock to fracture it and the horizontal drilling ensures that a large area of hydrocarbon-bearing shale is exposed in order to produce the oil.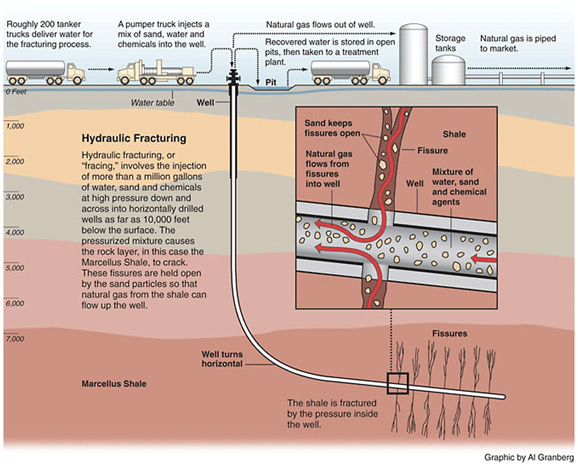 Source: http://www.eia.gov/energy_in_brief/images/charts/hydraulic_fracturing_large.jpg
In 2006, North Dakota ranked ninth among the states in oil production, but it is now the fourth largest oil producer. The phenomenal increase in the state's oil production is due to hydraulic fracturing and horizontal drilling technologies that allow the production of oil profitably at about $50 per barrel at its Bakken and Three Forks shale formations. North Dakota currently has 5,951 producing wells with plans for 1,500 to 2,000 new wells over the next year.[iii] The state produced 113 million barrels of oil in 2010 and is expected to surpass that amount by 20 percent this year. Forecasters are predicting that the state could reach over 250 million barrels of production by 2015. According to state and industry officials, 99 percent of the wells drilled in North Dakota's shale formations hit oil and 9 out of 10 are profitable. North Dakota sweet crude has been selling at $79 per barrel recently, $4 higher than last year.
In 2010, North Dakota's real gross domestic product (GDP) per capita was $46,336, over 9 percent higher than the U.S. average.[iv] Its unemployment rate was the lowest in the nation at 3.5 percent compared to a 9.1 percent U.S. unemployment rate.[v] The shale oil boom has brought employment and economic growth to North Dakota, where its GDP has increased by 33 percent from 2006 levels.[vi]
Oil Prices in the United States by Region
The Energy Information Administration provides oil price statistics by 5 Petroleum Administration for Defense Districts (PADDs): the Northeast, Midwest, Gulf Coast, Rocky Mountain, and West Coast. (See chart below.) The oil prices are provided as the average refiner acquisition cost of crude oil (RAC) in each region. The regions that are coastal have higher average RAC costs than those more central to the United States due to a higher portion of imported crude oil from overseas due to both the higher world market oil prices and to the transportation cost of getting the crude to U. S. ports. The East Coast RAC, for instance, was over 15 percent higher in July 2011 than that of the Midwest PADD where North Dakota is located. (See table below.) In March 2011, it was 25 percent higher.[vii]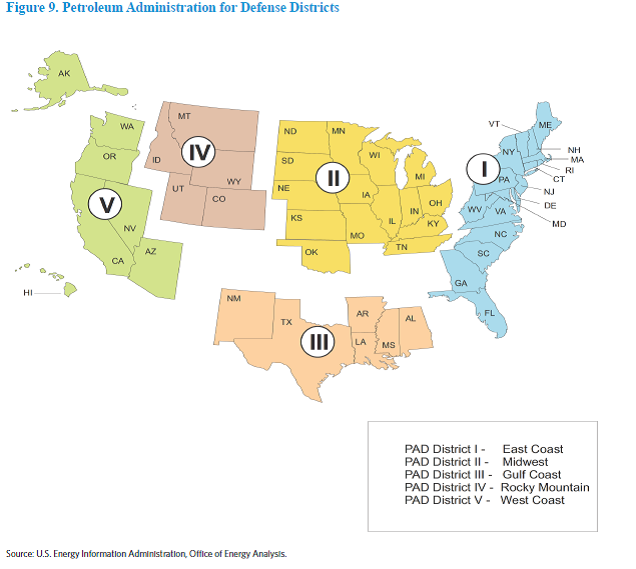 Refiner Acquisition Cost of Oil for July 2011 ($ per barrel)
| | |
| --- | --- |
| East Coast | $111.76 |
| Midwest | $96.36 |
| Gulf Coast | $107.53 |
| Rocky Mountain | $89.58 |
| West Coast | $106.53 |
| United States Average | $104.68 |
Source: Energy Information Administration, http://www.eia.gov/dnav/pet/pet_pri_rac2_a_EPC0_PCT_dpbbl_m.htm
Projected Heating Oil Prices
The Energy Information Administration (EIA) recently released its Winter Fuels Outlook, projecting that heating oil prices will reach a record this winter, averaging $3.71 per gallon.[viii] The Outlook expects households heating primarily with oil to spend an average of about $193 (8 percent) more this winter than last winter as a result of a 10-percent increase in prices and a 1-percent decrease in consumption due to slightly milder weather. About 6 percent of U.S. households depend on heating oil for winter fuel but about 80 percent of those households are in the Northeast where RAC prices tend to be the highest in the country. EIA projects residential heating oil prices this winter season to be 33 cents per gallon more than last winter, and the highest average winter heating oil price on record.[ix]
The Path the United States Should Take
What should the United States do to decrease future heating oil prices and emulate the economic and employment success of North Dakota? Obviously, oil imports from overseas add to the cost of energy in this country as the RAC costs above indicate. But, oil imports could be eliminated eventually just by taking steps to increase domestic production of oil off our coasts and on public lands in the lower 48 states and in Alaska, develop our shale oil resources, and increase the capability to import oil from Canada. Those oil development strategies have been continually blocked by the Obama Administration in preference to increasing renewable energy and continuing our dependence on oil overseas. Because most renewable energy pertains to the electric generation sector and because less than 1 percent of our generation is produced by petroleum, renewable policies do little to reduce our oil demand. That's because most oil is used in the transportation sector where few alternatives are economic or desired by the American public. As a result, the United States will be dependent on oil for many, many decades to come. Traditionally, oil demand has been reduced by economic recessions and its growth has occurred during periods of economic recovery.
The United States has a wealth of oil resources though the Obama Administration likes to only tout the proven oil reserves of this country, which are about 2 percent of world reserves. But, proven reserves are always growing and world oil reserves are the highest they have ever been: 1.47 trillion barrels. Reserves grow because of continuing exploration and development, new technological development, and higher oil prices that make previously uneconomic sources of oil economic to develop. For instance, if North Dakota had not continued to drill, it would not have increased its reserve level that has grown over 150 percent between 2006 and 2009. The state's oil reserves now total over 1 billion barrels. That increase has occurred even though we continue to use the state's oil. Further, if the state's oil companies had not turned to hydraulic fracturing, a relatively new drilling technology, they would not have been able to exploit North Dakota's Bakken shale oil resources. And, of course, oil prices had to reach more than $50 per barrel to make oil production there economic. But that figure is a lot less than the current cost of oil imports from overseas.
This same oil development strategy can work in waters off our Atlantic, Pacific, and Gulf Coasts; in the Arctic; on federal lands in Alaska such as the Naval Petroleum Reserve and the Arctic National Wildlife Refuge; on federal lands in the lower 48 states that are not national parks; and on federal lands that hold the world's largest oil shale resources of almost 1 trillion technically recoverable barrels, just under the estimate of total proven oil reserves in the world. With such a wealth of national oil resources, the United States should be able to eventually wean itself off of overseas oil provided it makes these American resources available to development.
A recent study has estimated that opening most of these resources to development, continuing the oil tax policies currently in place to encourage the investment needed to drill, and allowing a doubling of Canadian oil imports through construction of the Keystone pipeline would result in enough new oil production to displace the majority of overseas oil imports in 15 years.[x] It would also create 1 million new jobs over the next 7 years and 1.4 million by 2030 and generate more than $800 billion in new cumulative government revenues by 2030 without increasing taxes and government spending. The Unites States is currently encouraging and helping foreign countries such as Brazil to increase its oil exploration and production.[xi] Why not do it at home?
Conclusion
We are facing higher oil prices that have become sustained this year and record heating oil prices for this winter. But, the United States has a wealth of oil resources that can be developed to increase domestic oil production, create jobs, and increase government revenues to eventually wean us off overseas oil if only the U.S. government would provide those resources to development. Historically, U.S. industries have found the least cost solution for meeting American energy needs and our economy has grown to levels that no other country has matched to date. The U.S. government should look to North Dakota's accomplishments and emulate them through encouraging oil exploration and development in this country rather than fostering it in other countries.
---
[i] Energy information Administration, http://www.eia.gov/state/state-energy-rankings.cfm?keyid=28&orderid=1
[ii] Business Week, ND likely to pass Calif. as oil producer this year, October 14, 2011, http://www.businessweek.com/ap/financialnews/D9QCBMBO1.htm
[iii] Business Week, ND likely to pass Calif. as oil producer this year, October 14, 2011, http://www.businessweek.com/ap/financialnews/D9QCBMBO1.htm
[iv] Bureau of Economic Analysis, http://www.bea.gov/iTable/iTable.cfm?reqid=70&step=1&isuri=1&acrdn=1
[v] Bureau of labor Statistics, http://data.bls.gov/timeseries/LNS14000000 and http://data.bls.gov/search/query/results?cx=013738036195919377644%3A6ih0hfrgl50&cof=FORID%3A10%3BNB%3A1&ie=ISO-8859-1&q=state+unemployment+rate&term.x=0&term.y=0&filter=0&sa=Search#1400
[vi] Bureau of Economic Analysis, http://www.bea.gov/iTable/iTable.cfm?reqid=70&step=1&isuri=1&acrdn=1
[vii] Energy Information Administration, http://www.eia.gov/dnav/pet/pet_pri_rac2_a_EPC0_PCT_dpbbl_m.htm
[viii] Energy Information Administration, Winter Fuels Outlook, October 12, 2011, http://www.eia.gov/emeu/steo/pub/contents.html
[ix] EIA notes that that price is lower than the price during the summer of 2008 when oil and petroleum prices reached their peak.
[x] Wood Mackenzie energy consulting, U.S. Supply Forecast and Potential Jobs and Economic Impacts (2012-2030), September 7, 2011, http://www.api.org/Newsroom/upload/API-US_Supply_Economic_Forecast.pdf
[xi] Institute for Energy Research, https://www.instituteforenergyresearch.org/2011/09/13/new-oil-finds-around-the-globe-will-the-u-s-capitalize-on-its-oil-resources/