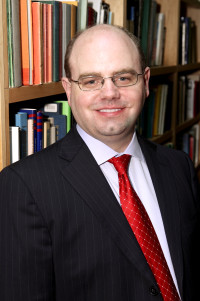 Robert P. Murphy
Senior Economist
Robert P. Murphy is a Senior Economist with IER specializing in climate change. His research focuses on the estimation of the "social cost of carbon," including the proper discount rate to be used in cost-benefit analyses and the implications of structural uncertainty for policy solutions.

Murphy received his Ph.D. in economics from New York University in 2003, where he wrote his dissertation on capital and interest theory. After teaching at Hillsdale College for three years, he moved to the financial sector to work as an analyst for Arthur Laffer (of Laffer Curve fame). In addition to his role at IER, Murphy holds positions at several other free-market organizations, including Senior Fellow with the Fraser Institute, Research Fellow with the Independent Institute, and Associated Scholar with the Mises Institute.

Murphy has written more than 100 articles for the layman on free-market economics and is the author of numerous books, including Choice: Cooperation, Enterprise, and Human Action (Independent Institute, 2015), Lessons for the Young Economist (Mises Institute, 2010), and The Politically Incorrect Guide to Capitalism (Regnery, 2007). He has also given numerous radio interviews and public lectures on economic topics.

Murphy has also published several scholarly articles and notes in peer-reviewed journals, including The Journal of Private Enterprise, The Journal of the History of Economic Thought, The Independent Review, The American Journal of Economics and Sociology, and The Review of Austrian Economics.